The Monthly Wellness Box:
Natural Healthcare Delivered
I am a part of one of the greatest programs on the planet.
When rewards programs hit the shopping world I had no problem carrying around an extra 10 cards so I could earn points on my purchases.
There are very few programs where I have actually seen real rewards.
My PC Mastercard has paid me time and time again with free groceries and clothes. It is one of the rare ones.
I have a travel credit card that costs me more per year than I earn back and I know how to use a visa!
I may not be a frequent flyer but I have taken enough flights in the last decade to have gathered Frequent Flyer miles…but I still have yet to earn a free flight or trip.
In my seven years of living here in France and using my grocery store points cards….never, ever have I received anything. Makes me wonder why I keep using them. I am sure my wallet could be much much smaller.
But the program I want to talk to you about today is not like every other rewards program out there. In fact, this one is so good I often wonder how they even financially do it.
In 2018, dōTERRA awarded more than $320 million (retail value) of products to members through the Loyalty Rewards Program.
Every month I take part in this program. I do it because I invest in myself. In my family. In my health.
I have all of the health tools. I spend a lot of money each year on green powders, supplements, sports equipment, sports clothes, organic food and of course essential oils (my natural healthcare).
I place my order at the first of every month and am excited to do so. dōTERRA is THE ONLY company to reward us for investing in our health.
And the rewards are huge! Last year I cashed in over 750 points which equals 750€ of free product. No, that is not incorrectly typed. That is real!
WHAT IS THE Monthly Loyalty Rewards Program:
Ordering through the Monthly Loyalty Rewards Program is the smartest way to use your wholesale account and it is the highest paying rewards program I have ever seen. Especially on the Natural Health + Wellness Space.
Everything that I used to spend hours driving to the store, perusing the isles, and buying products with ingredients I that were toxic for us….I now purchase through my back office. Not only do I purchase everything at 25% off but the additional perks are mind blowing.
I bring beautiful products that are more natural, safe, pure + effective (because of the quality dōTERRA infuses into them) into my home that is safe for the whole family.
dōTERRA rewards their loyal customers. They rewards us for taking care of our health. Taking care of our families.
Ps. Before we go any further I should tell "PV" stands for "Points Value". All dōTERRA products are assigned a points value, where 1 point is roughly equivalent to 1 dollar/euro/pound. Not all products are equal so check your cart to find out what the PV of your order is. Some oils even have a higher pv than they do price point.
Perks of the Program:
You are in complete control of your order up until 24 hours before it ships. You can order as little or as much as you like. You just have to order one thing to stay on the program.

You can join or cancel for free at anytime.

It arrives at your doorstep and feels like Christmas comes every month.

The cost of shipping is returned to you in free product. So essentially your shipping is free.

You earn 10-30% back on every order of 50pv (points). At the end of your first year on the program you are then permanently locked into 30% back :-)

You receive the free product of the month when you place a 125 pv order before the 15th of the month.

You can cash in your points at anytime for free product.
MONTHLY PV MINIMUMS:
50 PV is the minimum to be enrolled in the program and earn 10 – 30% of your purchases back in points for free products.

100 PV is the minimum to earn bonuses on any referrals (for Wellness Advocates)

125 PV is the minimum to receive the free product of the month (you must also set your order to ship by the 15th of the month in order to receive this bonus)

1 PV is the minimum to maintain your reward level and keep points from previous orders (however you won't earn points on orders under 50 PV)
YOUR REWARD LEVEL GROWS EACH MONTH:
dōTERRA loves to reward customer loyalty, which is what this program is all about. Every month you participate in the program moves you closer to receiving a higher percentage back in points:
Months 1-3: earn 10% back in points

Months 4-6: earn 15% back in points

Months 7-9: earn 20% back in points

Months 10-12: earn 25% back in points

Months 13+: earn 30% back in points

P.s.s there is a mind blowing promo for September 2019 that fast tracks you straight to 20% - crazy right? Look a little further below to see what I am talking about.
The Math:
If I spend 100€ this month and I am locked in at 30% back then I will Ean 30 points (30€) back automatically.
Shipping in France is 7-8€ for me so in total I will receive 38€ back on my account.
That is almost 40% back.
If I spend 200€ at 30% back + shipping then I would earn 70€ back.
I have never ever gone to a store…any store…grocery store….natural wellness store.. spent 200€ there and been given a voucher, or certificate to return to their store the next month and get 70€ for free.
Have you? If so, please share with me the stores so I can start shopping there!
These rewards happen for me each month! Imagine what that adds up to at the end of a year. At the end of 5 years.
This is why I now purchase things like hand soap, shampoo, conditioner, concentrate cleaner. Etc. Not only do I now have natural and safe alternatives in my home but I get to use this rewards program on steroids!
Learn How to Order the Natural Health + Wellness Box
If you have never ordered through the Loyalty Rewards Program you can visit this library here to learn how to:
set up your order

edit your order

process your order

cash in points

add and save details
In addition to that, you'll receive all of your shipping costs back in free product points and you'll start by earning 10% of your order back in free product points.
This earnings rate grows throughout the year until you've locked in 30% back by the end of the year!
Your earned free product points will appear in your back office the following month.
You can redeem these points for products. Each oil is assigned a Point Value (pv). For example Lemon is 10pv. If you order 100pv and get 10pv back, essentially you've earned a free bottle of lemon. As your points accrue over time, this enables you to redeem them for whatever oil you choose.
September 2019 Promotion:
There is a special promotion being offered this month from dōTERRA for anyone who's NOT currently a Loyalty Rewards Member, or anyone who's not yet at the 20% rewards spot, a ONE TIME chance to fast track to it!
Normally it would take 6 months of purchasing 50pv in products to hit the 20% rewards back, but here's how you can get there for October!
This month ONLY, join the free Loyalty Rewards Program (often referred to a LRP) with a 150pv order (youll start earning rewards right away and get 10% of your order back as point plus all of your shipping back as points too!)
So, a 150pv order will earn you 21 points back (points can be traded in for free product!)
Next month, (October) you just need to place a 50pv order and doTERRA will fast track you to the 20% back!
So a 50pv order will earn you back 16 points! So now, JUST LIKE THAT You've got 37 points in your account for free oils.
To stay in the program just simply order at least 1 item each month (you all buy toothpaste, soap, detergent, lip balm and so on right? use your doTERRA account for that!)
You will always earn 100% of your shipping costs back, even if you're not spending the 50pv order. To get the 20% back however, spend at least 50pv or higher. After you do three months of a 50pv order, you'll be bumped up to 25% back, and then eventually 30% back where youre stay forever! It's SOOOO generous!
And here's a hot little tip...
Generally in December doTERRA does a VERY awesome Frankincense promo. a 200pv order in December for the last 5 years has gotten you a FREE bottle of Frankincense. So in December, if you did that 200pv order, you'll earn at least 46pv back as points.
So you can see how fast these points add up to cash in on your dream wish list oils!
Here are some Wellness Box ideas you can build to create orders that are close to 150pv, with a few suggestions of add ons to help you hit 150pv to be eligible to hit the 20% back.
This is only being offered this month guys! doTERRA hasn't done this before and it's a total treat to be rewarded so generously!
Start your Natural Health + Wellness Box
If you are brand new to dōTERRA and you have not even gotten your account yet you can do that here: https://www.hoohappiness.com/purchase-essential-oils
Below, we've curated over 20 specific wellness boxes to support the most common health priorities + lifestyle elements!
Write down your health priorities and find solutions
We suggest you identify 3 areas that are a priority to your right now. If you're not sure where to begin, visit this page here to view how we integrate these products and complete your personal wellness overview.
Once you know what area you'd like to start with first, find the wellness box that supports that area.
We've provided you with what to order + have done the math for you to help you maximize all the perks of the wellness program!
We've also recorded a 5-7 min video teaching you how to use the products in each health box.
For the Full Album of Wellness Boxes and Videos visit this link.
We've selected the perfect products to support you and have created selections that would equal at least 125pv.
WHY 125pv?
This is where the perks are maximized when you order through the monthly Rewards Program!
When you place a monthly order of at least 125pv before the 15th of the month, you'll receive a free product every month from doTERRA!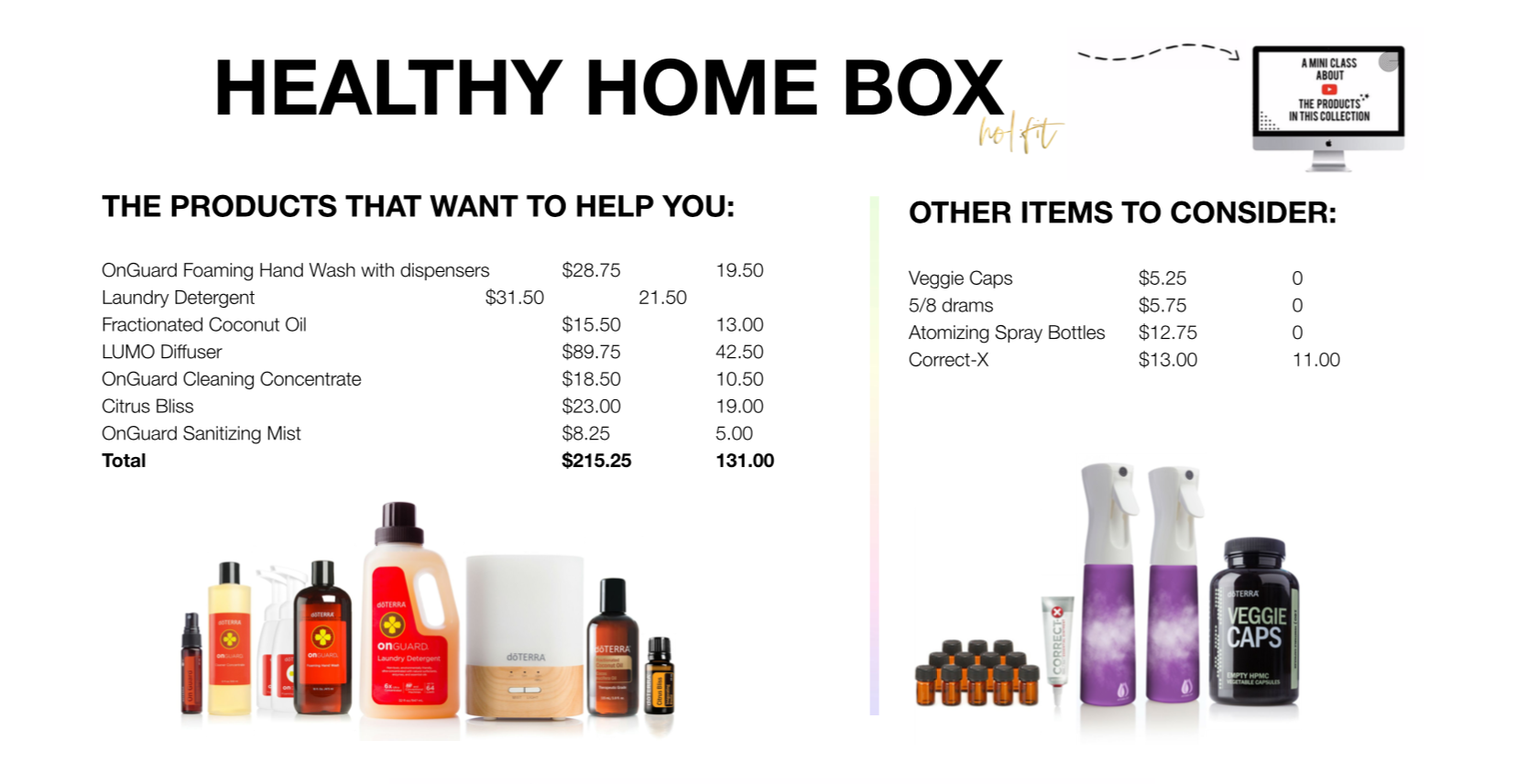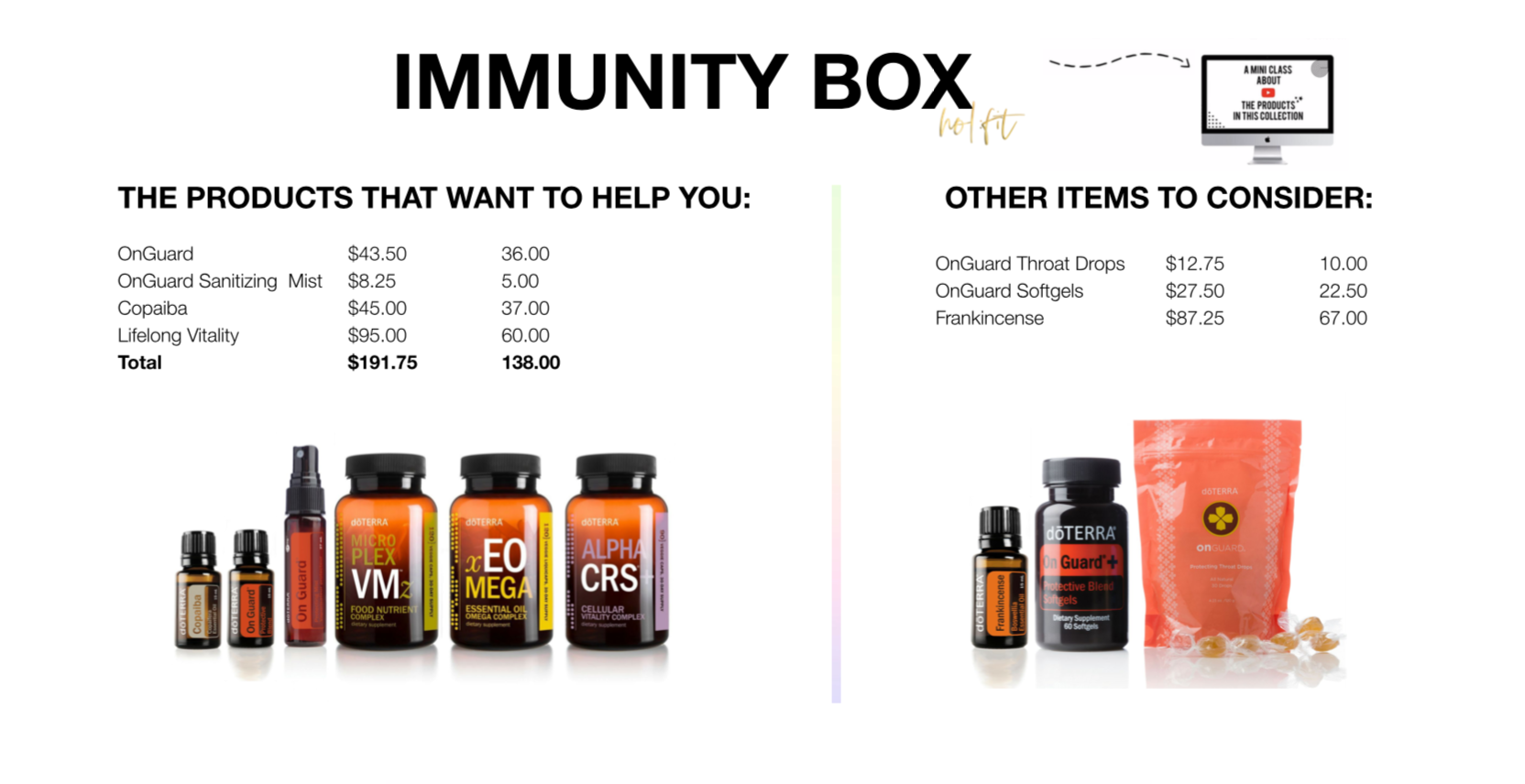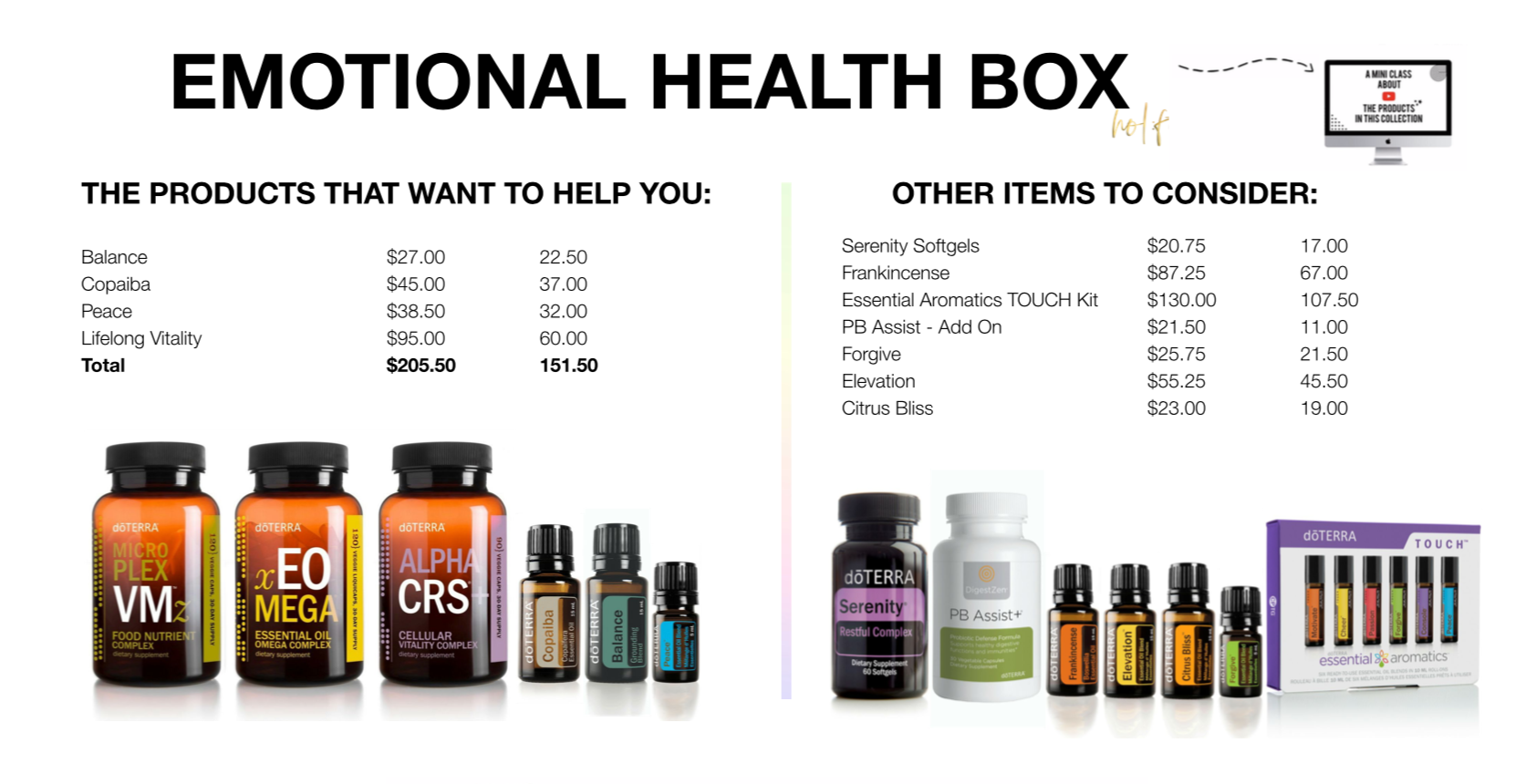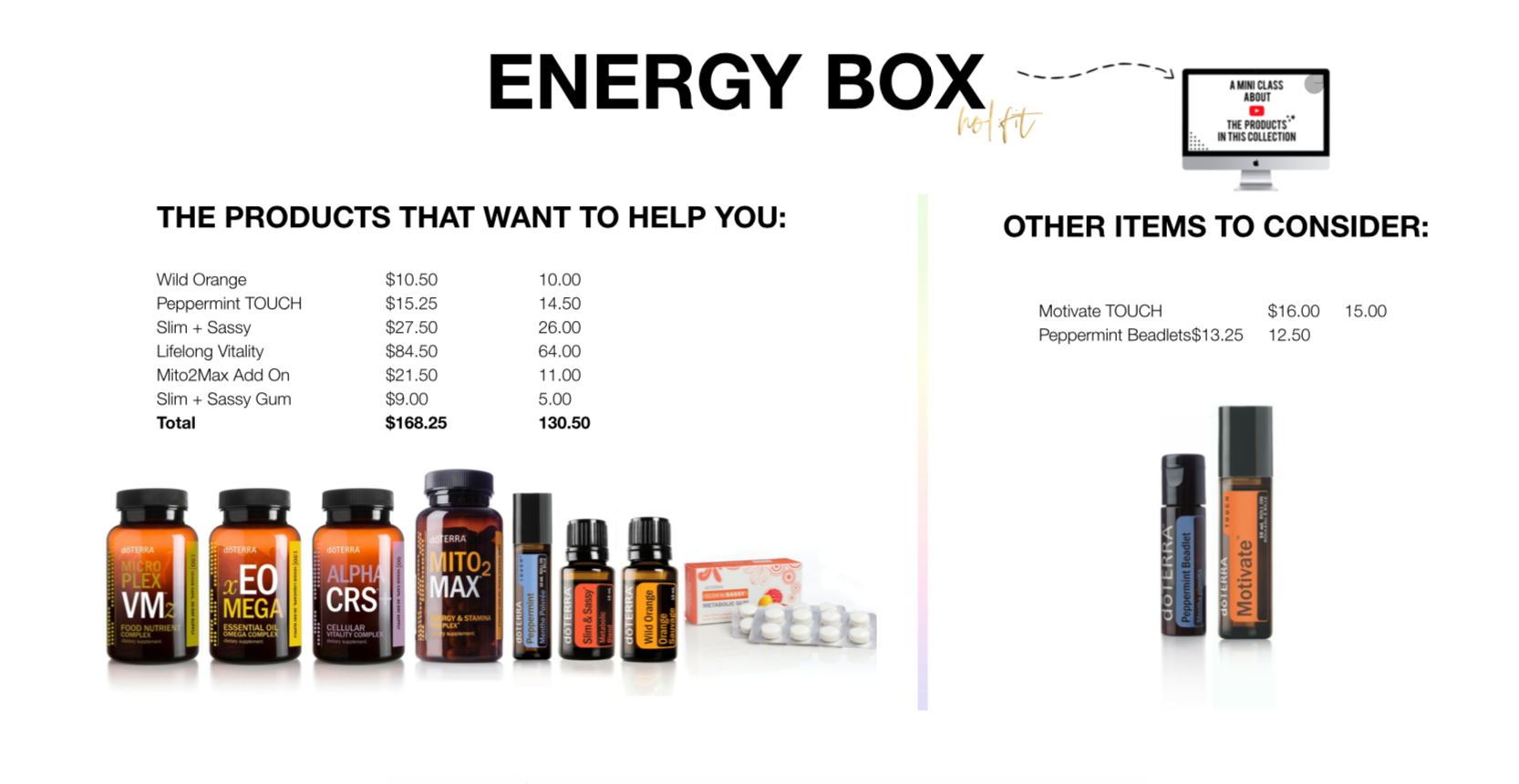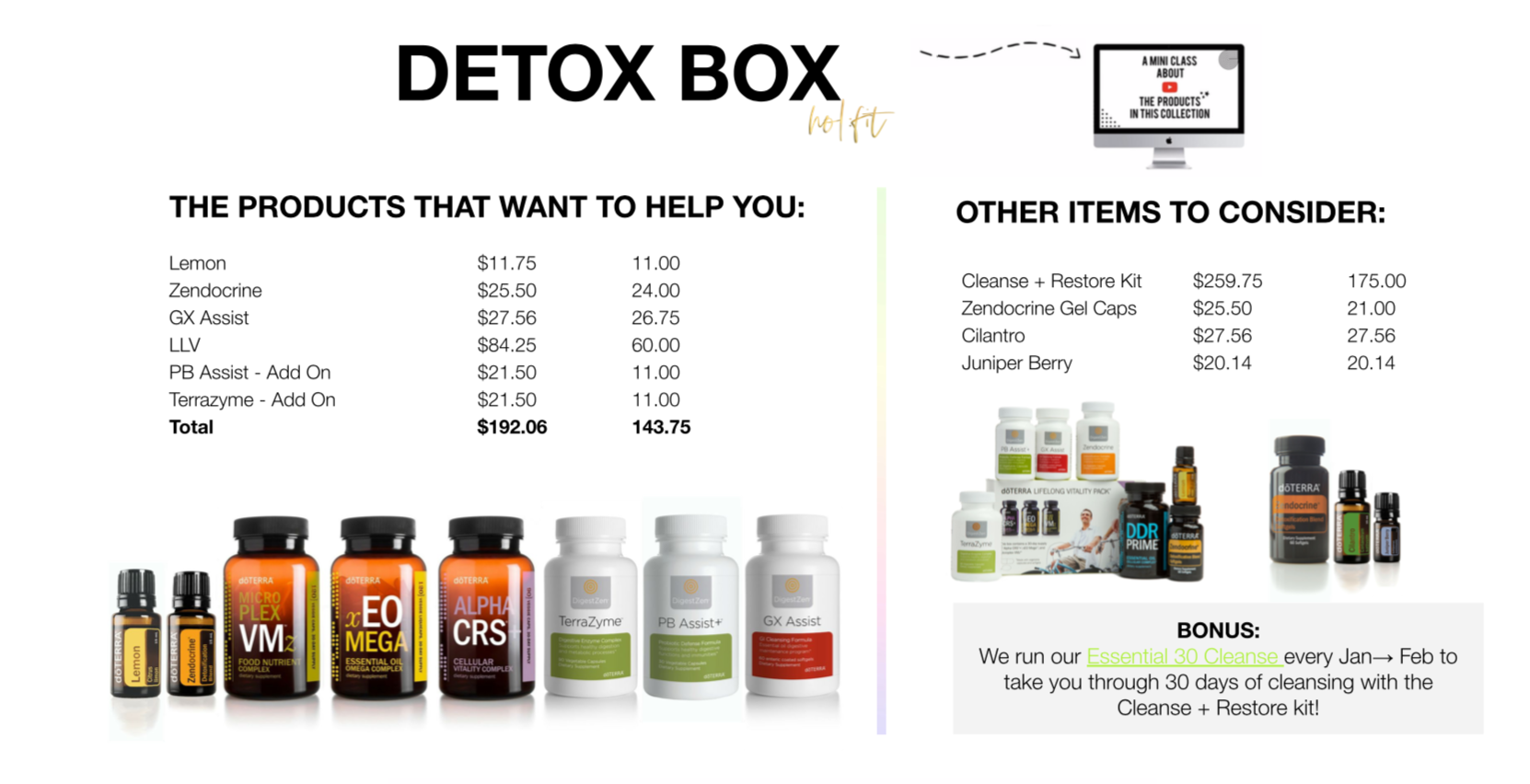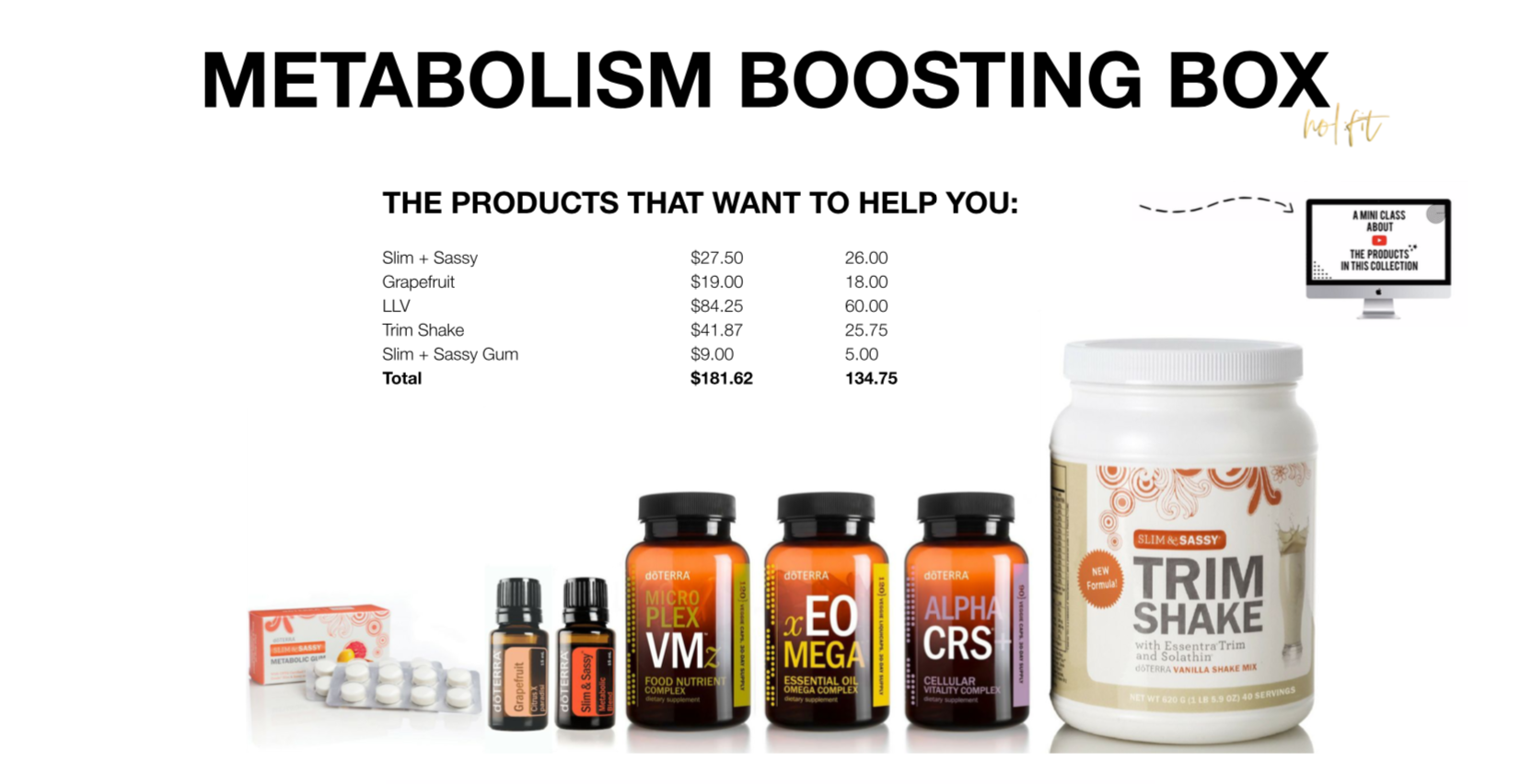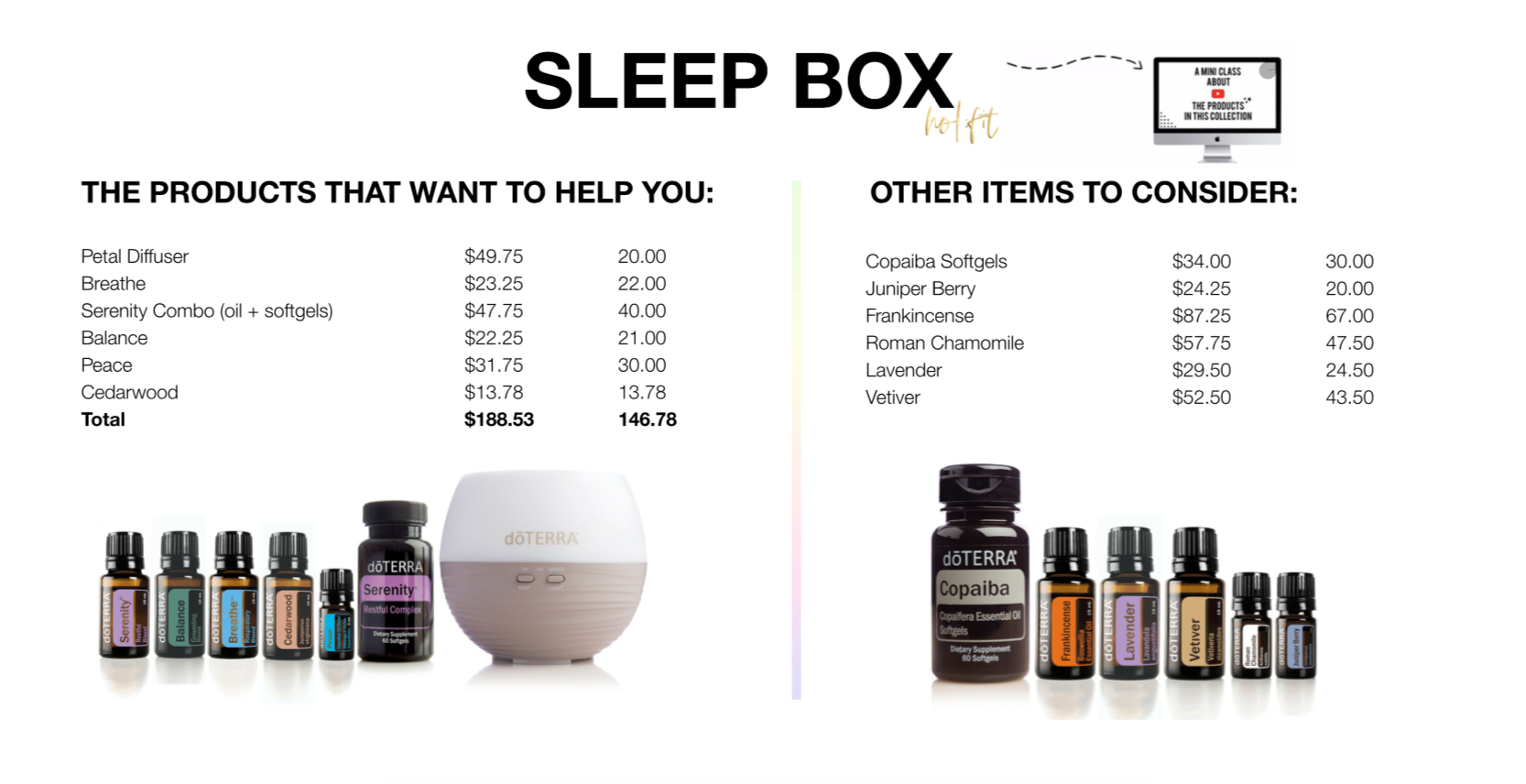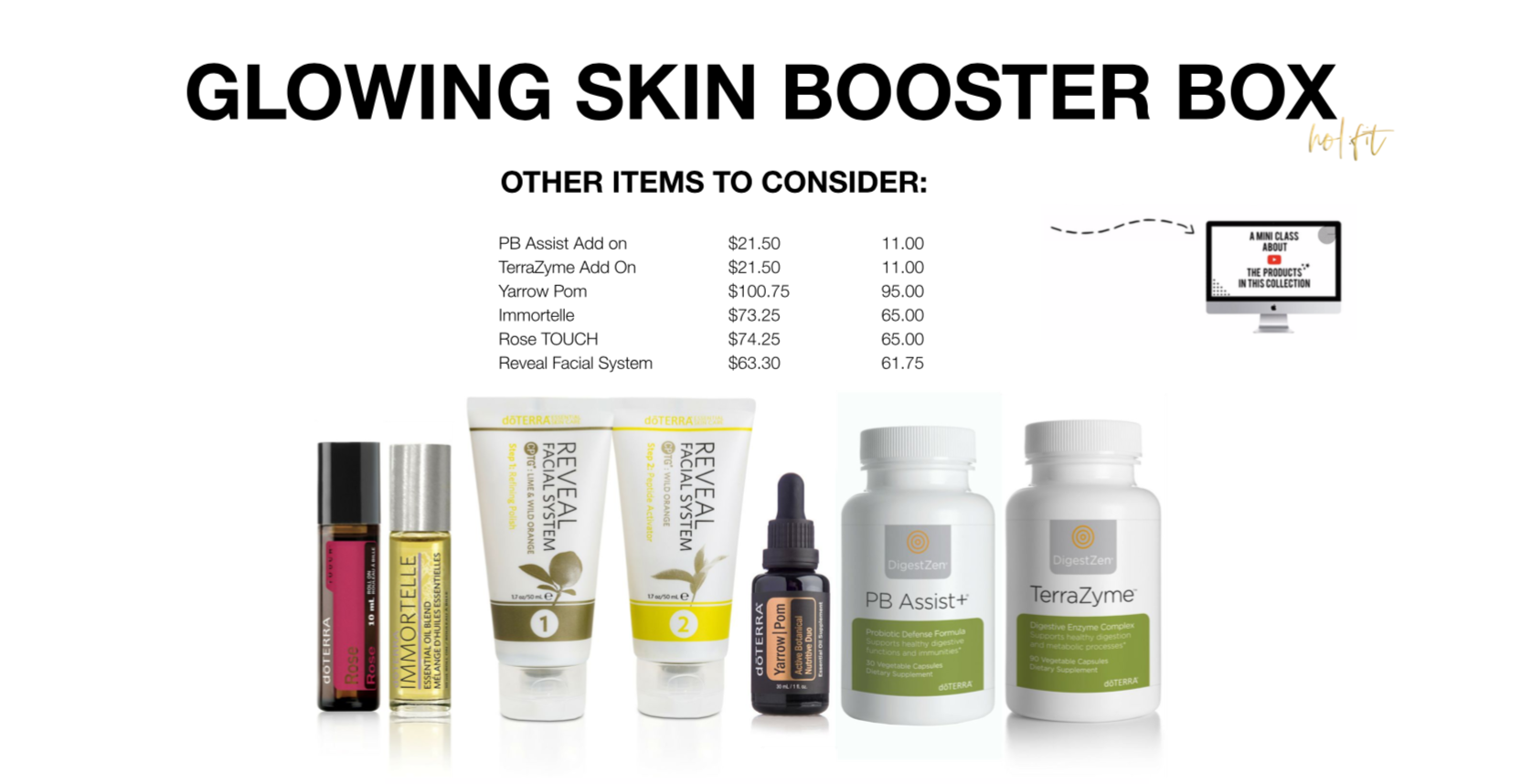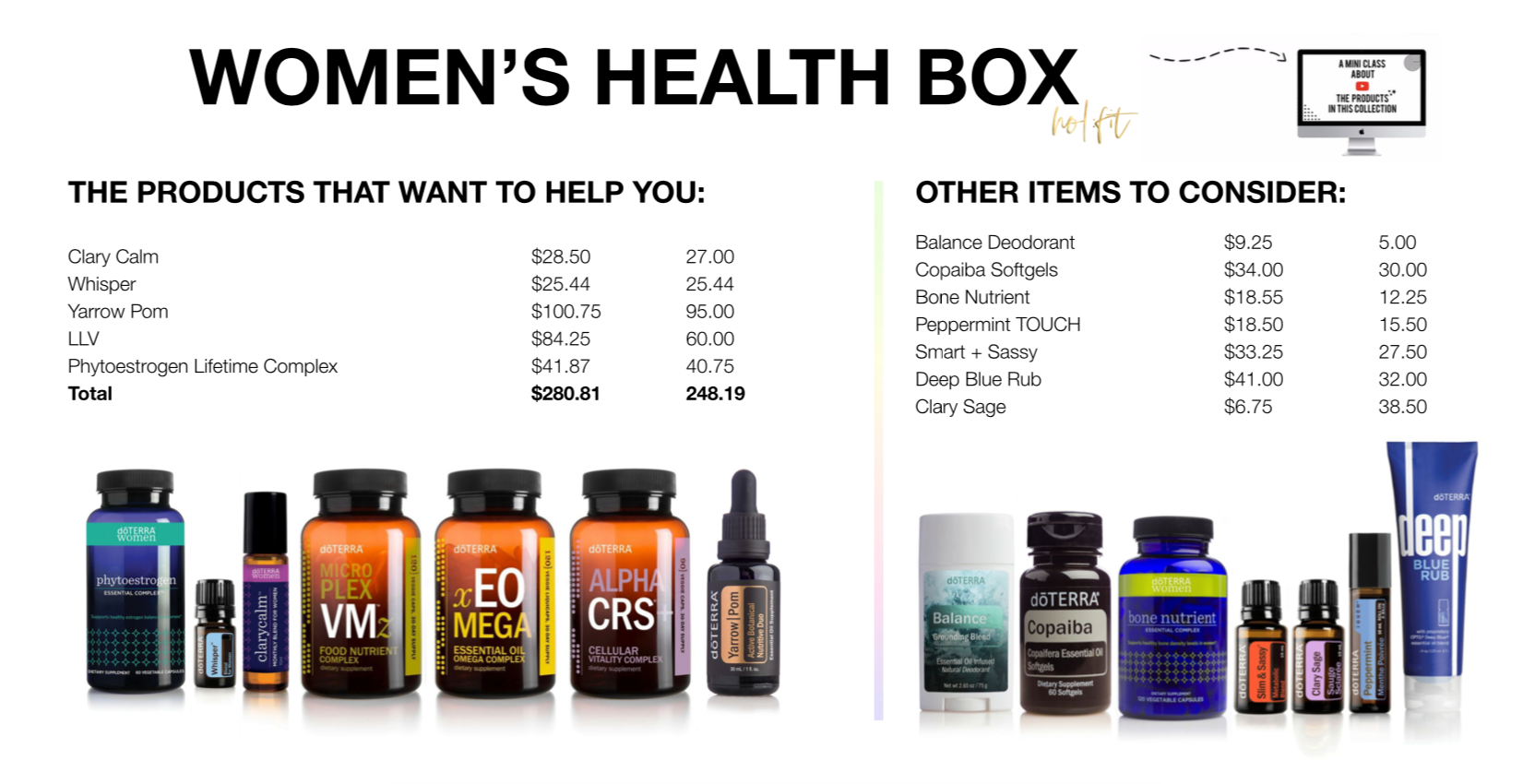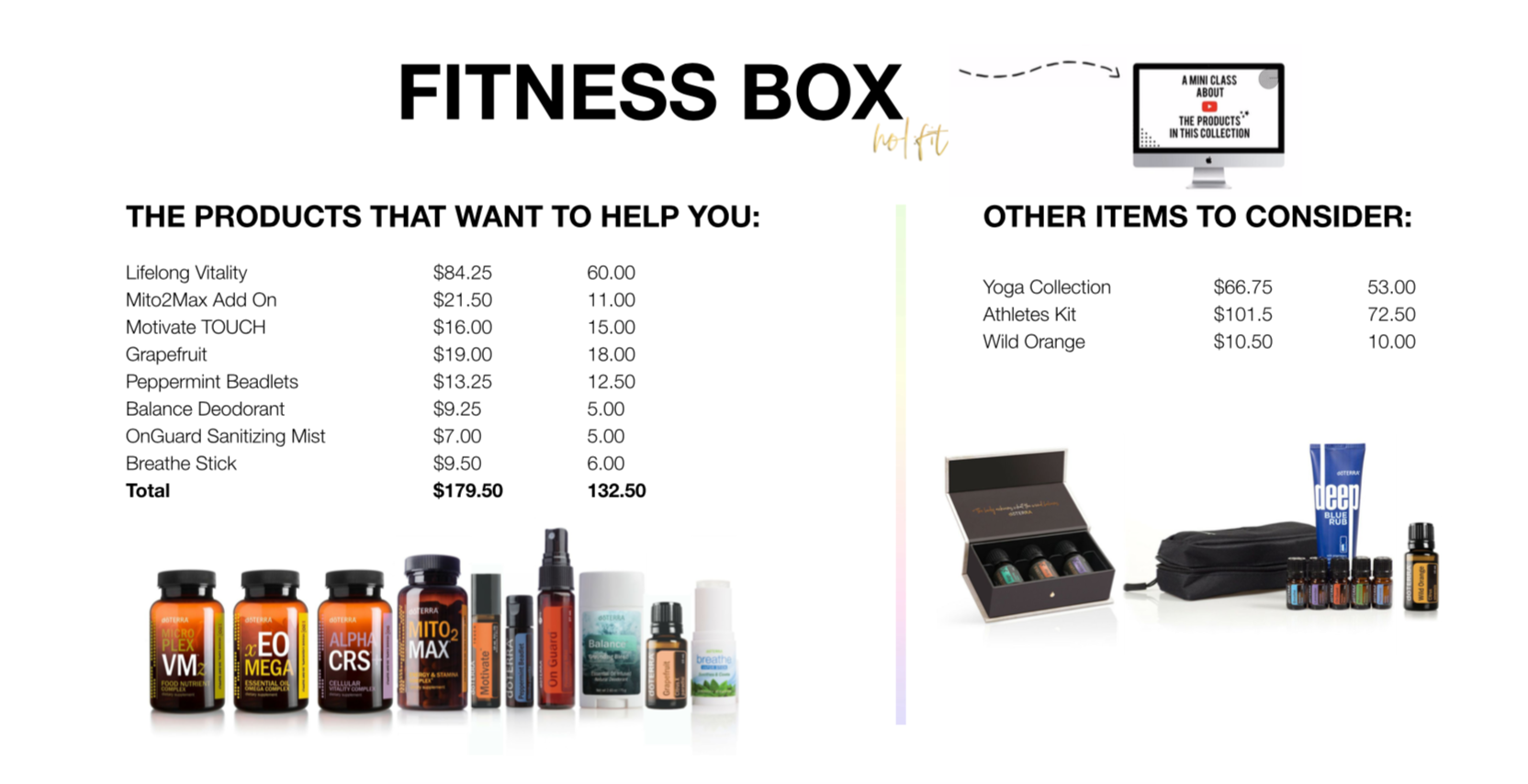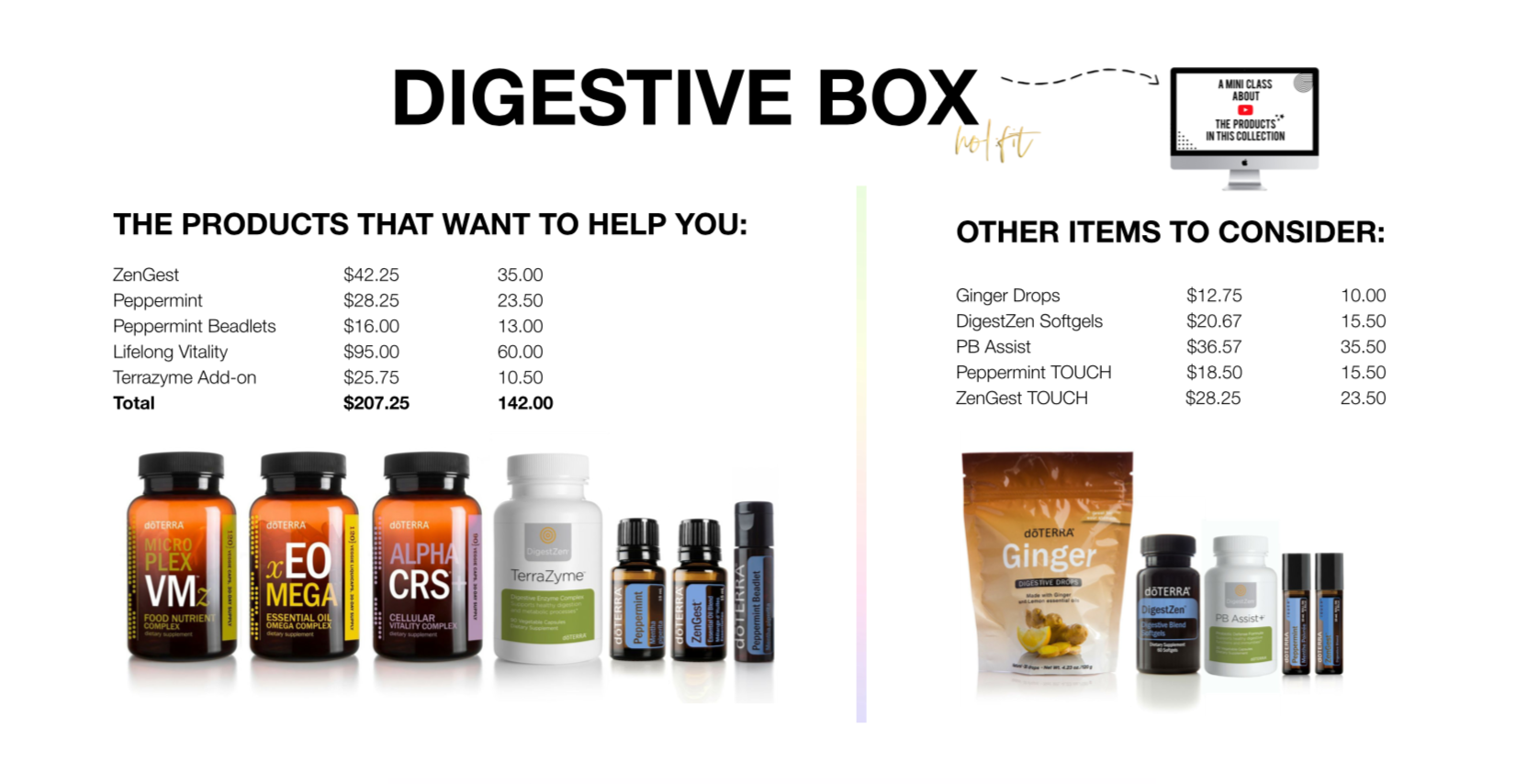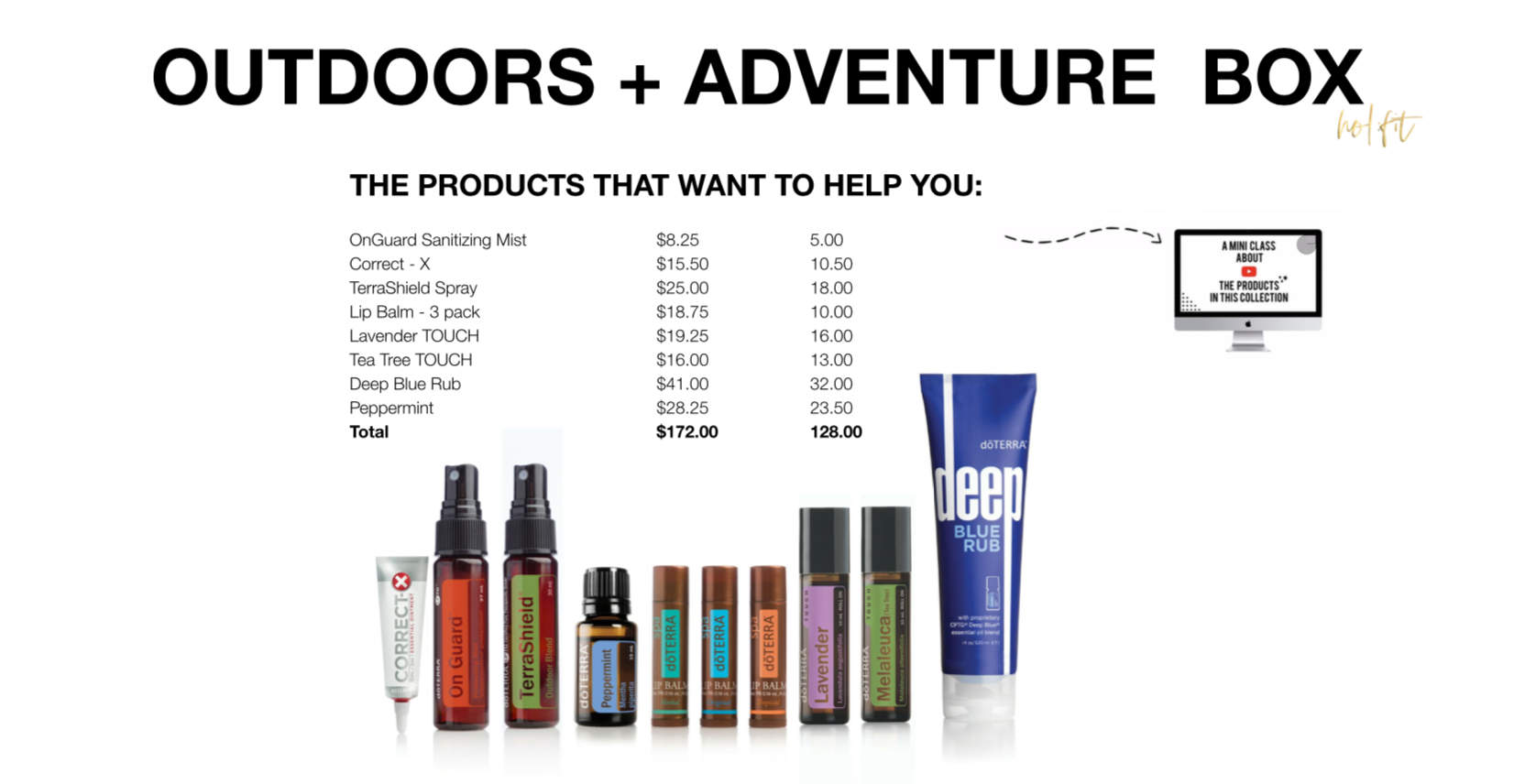 A PEAK INSIDE MY NATURAL HEALTH + WELLNESS BOX
Here are a few of the videos I have done this year just giving a peak inside what was delivered to my door each month.
You will likely see a trend in the videos are there are a lot of products I order each month.
If you have questions about the benefits of this program or if you need assistance getting it set up just connect with me!
Happy Healthy Shopping!